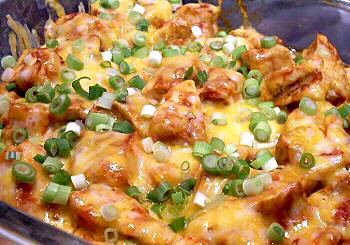 Posted on Linda's Low Carb Recipes http://www.genaw.com/lowcarb/
This was great, served it with refried beans, rice and tortillas. The kids both liked it - they made their own burritos.
I cut chicken breasts into chunks, then put the chicken and the taco seasoning in a ziploc bag. Coated the chicken and sauteed it in a skillet. Followed the rest of the recipe as follows:
MEXICAN CHICKEN
1 pound boneless chicken breasts
1 teaspoon
Seasoning for Tacos
Salt, to taste
1/2 cup enchilada sauce
4 ounces cheddar cheese, shredded
3 green onions, chopped
Sprinkle the chicken on both sides with taco seasoning; grill or sauté. Cut the chicken into cubes and place in a greased 8x8" baking dish; season with salt to taste. Add the enchilada sauce and toss to coat the chicken. Sprinkle the cheese over the chicken and bake at 350º for 10-20 minutes, until hot and bubbly. Scatter the green onions over the top.
Makes 4 servings